Hospital Flower Delivery
Village Florist
Hospital Flower Delivery
You can send flowers from . Village Florist . to any hospital or care facility listed below. Please refer to this list for the names, addresses and phone numbers.
Bryson City, NC
Mountain View Manor Ctr
Po Box 2344
Bryson City, NC. 28713
(828) 488-2101
Swain County Hospital
45 Plateau St
Bryson City, NC. 28713
(828) 488-2155
Cherokee, NC
Cherokee Indian Hospital
Po Box C-268
Cherokee, NC. 28719
(828) 497-9163
Tsali Care Ctr
55 Echota Church Rd
Cherokee, NC. 28719
(828) 497-5048
Sylva, NC
Harris Regional Hospital
Po Box 427
Sylva, NC. 28779
(828) 586-7000
Mountain Trace Nursing Ctr
417 Mountain Trace Rd
Sylva, NC. 28779
(828) 586-7900
Skyland Care Ctr
193 Asheville Hwy
Sylva, NC. 28779
(828) 586-8935
West Care Urgent Care Ctr
68 Hospital Rd
Sylva, NC. 28779
(828) 586-7788
Don't just wish someone a speedy recovery; encourage it with flowers from Village Florist delivered to the hospital. Flowers delivered to the hospital will create an atmosphere of beauty and tranquility for the patient.
It is easy to send flowers to the hospital by calling Village Florist. Just follow a few hospital flower delivery guidelines.
Know the patient's full name.
Know the room number.
Find out if they are allowed to receive flowers at the hospital.
Know the name and location of the hospital
To help you find a Bryson City, NC hospital or care facility, Village Florist lists all the hospitals they deliver flowers to.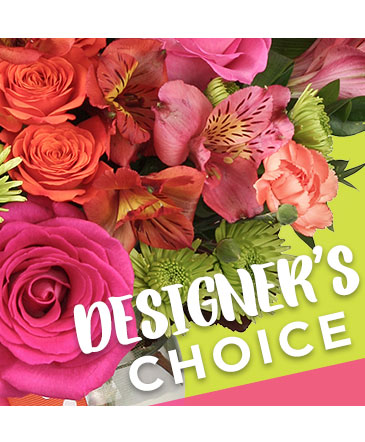 Designer's Choice
Custom Arrangement
You can trust our design experts to create something wonderful! They'll go above your expectations to create something as beautiful and exceptional as the person you're sending them to. If you have a favorite color or flower in mind, please let us know in the special instruction box when you order. THIS GRAPHIC PICTURED IS NOT AN EXAMPLE OF THE FLOWERS TO BE INCLUDED. YOU ARE SECLECTING DESIGNERS CHOICE, WE CHOSE EVERYTHING BASED ON WHAT WE HAVE AVAILABLE. IF YOU HAVE ANY REQUEST LEAVE THEM AT CHECK OUT AND WE WILL DO OUR BEST TO HONOR IT BUT NOT GUARENTEED.
Order within 50 minutes for Same Day Delivery!